Saturday, July 17, 2021
Open hours for Glimpses of the Past print exhibition
10 am - 4 pm
Couse-Sharp Historic Site, 146 Kit Carson Road, Taos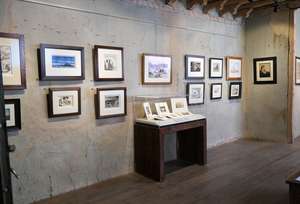 Glimpses of the Past: Historic New Mexico Prints 1880-1950 in the 1830s Luna Family Chapel presents a significant exhibition of graphic media focusing on northern New Mexico, most never before seen by the public. The exhibition of 52 artworks can be visited free of charge between 10 a.m. and 4 p.m. on numerous Saturdays:

10am – 4pm: July 10, 17, 24
10am – 4pm: August 14, 21, 28
10am – 4pm: September 11, 18
10am – 4pm: October 2, 9, 16, 23

3 – 5pm (during Couse-Sharp Historic Site's open houses):
July 3, August 7, September 4
Admission is free, though donations are gratefully accepted.
Except for the open houses, access is by appointment; available appointment hours are 10 a.m. to 4 p.m. Monday through Saturday. To book, schedule at couse-sharp.org/tour (mention in the notes if you would like a full tour of the historic site or exhibition access only), or call The Couse Foundation at 575-751-0369.
The Site complies with all official pandemic-related protocols in force at any particular time and requires visitors to adhere to them as well.
If you cannot see the exhibition in person, please visit the GlimpsesofthePast.org website.

The Couse-Sharp Historic Site is over 100 years old and is not ADA accessible. If you have concerns about whether a member of your party will be able to negotiate the steps and uneven ground, please call to discuss.

Parking is limited at the site. Please park in the public lot at the bottom of the hill about a half block east of 146 Kit Carson Road.