See where the Taos Society of Artists began: Couse-Sharp Historic Site
The 2+ acre campus in the heart of Taos' central historic district features the former homes and studios of E. I. Couse and J. H. Sharp, two of the American-born, European-trained artists who formed the TSA in 1915. Visitors are astonished that such a well-preserved—and charming—complex of period buildings, gardens, furnishings, and associated art collections still exists. We invite you to peruse our website to get a feel for the amazing range of history, culture, architecture, science, and art at the Couse-Sharp Historic Site.
Our current Glimpses of the Past exhibition has open hours, but access to the historic site is by docent-led tour only. We are currently on hiatus for site tours. We will resume site tours March 15, 2022. Find out all the details on our Tours page.
NOTICE: TEMPORARY CLOSURE
Our Glimpses of the Past exhibition in The Lunder Research Center was scheduled to open Thursday, January 13. However, due to a huge spike in COVID cases in our area, we will be closed to the public through at least January 24. We regret any inconvenience. Watch this site for notice of opening or further closure.
We are fully complying with public health guidelines. Currently, everyone must wear masks on the property and preserve distance from docents, staff and unrelated parties. We continue to monitor regulations and official guidance and will amend our protocols as warranted. Click here to see the full protocol. Thank you for your cooperation in New Mexico's public health efforts.
_____________________________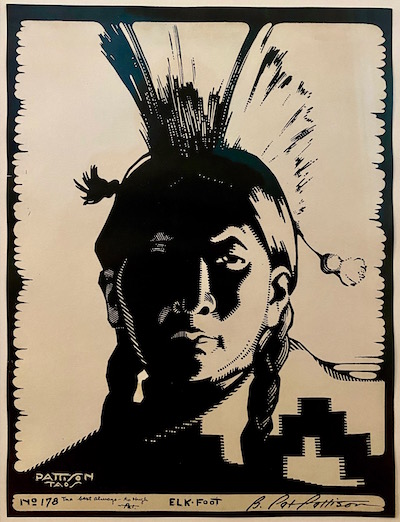 Our current Lunder Research Center exhibition, Glimpses of the Past: Historic New Mexico Prints 1880-1950 presents a significant collection of graphic media focusing on northern New Mexico, most never before seen by the public.
Open hours are noon to 4:00 p.m. Tuesday through Saturday. Find out more on the exhibition page or view the works online at GlimpsesofthePast.org
______________________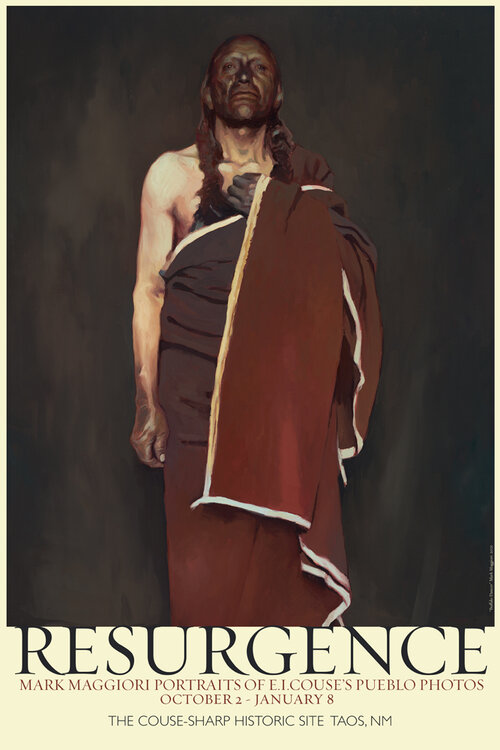 The first exhibition in the Dean Porter Gallery of The Lunder Research Center was Resurgence: Mark Maggiori Portraits from E. I. Couse's Pueblo Photos. Explore the works at ResurgenceMaggiori.com and purchase the exhibition poster (seen at right).
The E.I. Couse Original Contact Print Collection that Mark drew from for these works has been digitized thanks to an National Endowment for the Humanities grant and is accessible online through New Mexico Digital Collections.
_____________________________
Selections from our 2020 seasonal exhibition, Stitched in Sovereignty: Contemporary Beadwork from Indigenous North America, are available online, along with video chats with guest curator Chelsea Herr and several of the artists. Visit StitchedinSovereignty.org
______________________
Upcoming Events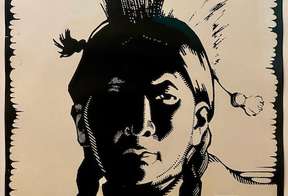 Open hours for Glimpses of the Past exhibition
Thursday, January 13 - Saturday, February 26, 2022, noon - 4 pm
all events »