Saturday, October 1, 2022
First Saturday Open House, Heritage Garden Seed & Plant Giveaway
3-5 pm
138 and 146 Kit Carson Road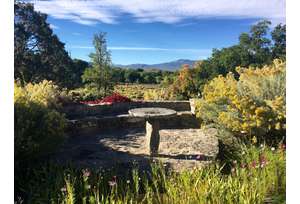 The Couse-Sharp Historic Site invites you to join us for our First Saturday Open House. Tour the historic studios of E.I. Couse and J.H. Sharp, two of the founders of the Taos Society of Artists (TSA), and enjoy a delightful stroll through Virginia Couse's vintage garden.
Docents will be present in every room providing in-depth knowledge of the E. I. Couse House and Studio, as well as the restored Sharp Studio and the exhibition J. H. Sharp Studio: The Life and Work of an American Legend.
At this open house we highlight the "Mother Garden" of Taos. Volunteers collect seeds and cuttings during the year and share them with community members and visitors on the first Saturday every October. The seed and cuttings giveaway continues a tradition in remembrance of Virginia Walker Couse's original generosity, which helped establish many Taos gardens. (See below for more information on the garden.)
Open to the public, free admission; donations encouraged. Free parking available a half block east in the municipal lot on Kit Carson Road. Please note: Because of the site's nature as a place of historic preservation, buildings and grounds are not ADA accessible.
VIRGINIA COUSE'S HISTORIC MOTHER GARDEN
Immediately upon their move to their new home on Kit Carson Road in 1909, artist E. I. Couse's wife, Virginia, began developing her famous garden. She designed its architecture of terraces, stone walkways, and a seat overlooking the valley, as well as the colorful palette of flowers that filled its garden beds. She shared the flowers and seeds from her garden generously.
Visitors often left with a bouquet; locals were supplied with flowers for christenings and weddings; newcomers to town were given seeds and plants to start their own gardens. At its final open house of the season in October, The Couse Foundation carries on this tradition with a giveaway of plants including phlox, daylilies, and iris, and the seeds of oriental poppies, cosmos, and hollyhocks.