Saturday, October 7, 2023
Open House | Wet Paint Sale & exhibition opening | Garden Giveaway | open hours for Aún Aquí exhibition
2-5pm
Couse-Sharp Historic Site, 138 and 146 Kit Carson Rd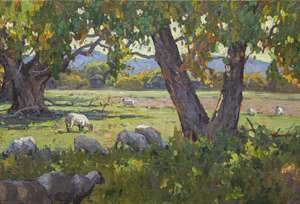 Couse-Sharp Historic Site invites you to join us for our final Open House of the 2023 season.
The fun starts at 2 p.m. with a public reception for the opening of the exhibition Plein Air Painters of America: Out West will be open 2-5 pm in our Lunder Research Center, 138 Kit Carson Road. We will also host a "wet paint sale" of recently completed plein air works, on the back portal of the LRC.
At 3 p.m. we host our open house of the historic portions of the Site, and as we do every October, we highlight the "Mother Garden" of Taos with a garden giveaway. Volunteers collect seeds and cuttings during the year and share them with community members and visitors. The seed and cuttings giveaway continues a tradition in remembrance of Virginia Walker Couse's original generosity, which helped establish many Taos gardens. The garden bounty is first come, first served and we always "sell" out, so if you want to participate, please arrive on time!
During the open house, you'll tour the historic homes and studios of E. I. Couse and J. H. Sharp, two of the founders of the Taos Society of Artists, and enjoy a delightful stroll through Virginia Couse's vintage garden.
Docents will be present in every room providing in-depth knowledge of the E. I. Couse home and studio, the Kibbey Couse laboratory and machine shop, the Couse Mobile Machine Shop, the exhibition J. H. Sharp: The Life and Work of an American Legend in the 1915 Sharp Studio, and the exhibition Aún Aquí: Spanish Colonial Contemporary in the 1830s Luna Family Chapel, which Sharp used as his first Taos studio.
Open to the public, free admission; donations encouraged. Free parking available a half block east in the municipal lot on Kit Carson Road; parking for those with disabled permits available on site.Please note: Because of the site's nature as a place of historic preservation, most buildings and grounds are not ADA accessible, but The Lunder Research Center is accessible.