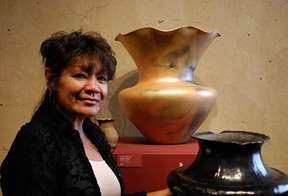 Saturday, July 2, 2016
First Saturday Open House and Pottery Demonstration
3:00-5:00pm
Couse-Sharp Historic Site
Visionaries in Clay features Native artists whose bold work helps to define our understandings of Native identity and cultural expression. The exhibition draws from the impressive historic pottery collection of E.I. Couse and from the work of contemporary Native artists in northern New Mexico. The pots are arranged in groups that create a visual conversation through time.
With the emergence of pottery in the American Southwest some two thousand years ago, potters have used their work as a vehicle for cultural transmission. Technical mastery, abstract thinking and metaphoric designs contained within the pottery speak volumes. Pottery reveals stories of ancient migration, cross-cultural exchange, elaborate belief systems, and complex lifeways where artistic expression remains deeply valued.
Many Native design motifs became codified over time as styles became representative of specific pueblos. Within these cultural boundaries however, there have always been innovators, who depart from the accepted social norms, and in so doing, change the visual language and styles that are now considered hallmarks of Native tradition and identity. The Pueblo potters in this exhibition embody that vision
The exhibition is a genuine collaboration with the artists. Several of the artists, pictured above, were invited to spend time with the Couse pottery collection in an effort to identify pots that spoke to them, and their art. We then paired the contemporary artists' work with historic pieces where there was an obvious, and sometimes not so obvious connection.
As we carefully removed pots from the shelves in E.I.Couse's studio, the artists gathered around the pots reverently examining every inch, admiring the technical skill, complex designs and the signatures left by their creators - perhaps the texture made by a polishing stone or the bold line of a yucca brush in a confident hand - a dialogue with their ancestors over a 2,000 year continuum.