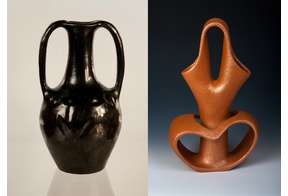 Saturday, June 4, 2016
Couse-Sharp Historic Site Open House with exhibit "Visionaries in Clay: Pueblo Pottery Past and Present" June 4, 2016
2:00 - 5:00 p.m.
Couse-Sharp Historic Site

June 4th only, 2:00 - 3:00 p.m. - Attend a Pueblo pottery demonstration by renowed Pueblo potters, Jody and Susan Folwell at the Luna Chapel on the Couse-Sharp Site.
3:00 - 5:00 p.m. - Join us for our regularly scheduled Open House the first Saturday of the months June through October featuring the exhibition Visionaries in Clay which highlights Native artists, both historic and contemporary, who have helped define our understandings of Native identity and cultural expression through their bold work. The exhibition draws from the strong historic pottery collection of E.I. Couse and from contemporary Native artists in northern New Mexico. The historic potters were visionary for their experimentation in form and designs imbued with symbolic meaning. The contemporary potters are visionary for their continued experimentation that challenges stereotypes of "Indian" and force us to confront our own biases and perceptions. The exhibit will include some of E.I. Couse's historic pottery collection as well as contemporary pottery from Hopi/Zuni, Santa Clara, Navajo, Taos, Cochiti, and Acoma artists. The exhibition will be Saturdays from 10:00 a.m. to 4:00 p.m., June 4 and run through the end of October.
Images: L - "Artist Unknown" Santa Clara Pueblo, ca 1915, and R - "Untitled" Yellowbird Samora, Taos Pueblo, 2015 (Photo courtesy of Kevin Rebholtz).