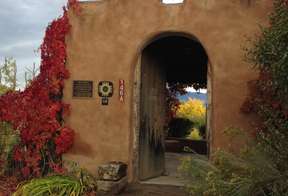 Saturday, October 3, 2015
Couse-Sharp Historic Site Open House in conjunction with Pressing Through Time features the Etchings of J H Sharp, October 3, 2015
3:00 - 5:00pm
Couse House, 146 Kit Carson Road, Taos NM
The Couse Foundation invites you to attend its final Open House of the season on October 3, 2015 from 3:00-5:00 p.m. Tour the historic studios of E.I. Couse and J.H. Sharp, two of the founders of the Taos Society of Artists, and enjoy a stroll through Virginia Couse's vintage garden. Also visit the studios of Gail Goodwin, Randy LaGro and Ed Sandoval.
As part of the larger exhibit Pressing Through Time, an exhibit titled, THE ETCHINGS OF J.H. SHARP, will be featured in the Luna Chapel beginning on October 3 and continuing through October 31. Viewing hours are from 10:00 a.m. - 12:00 p.m. Tuesday through Sunday.
For more information, please contact us at (575) 751-0369.